Myriad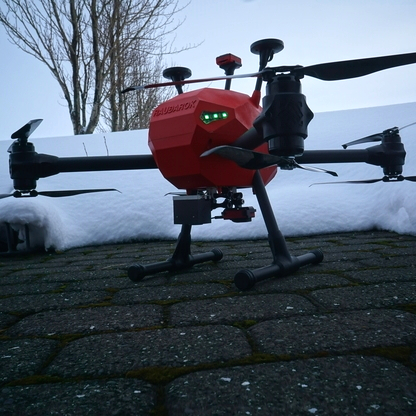 Automating drone-based aerial imaging.
Project contacts

Íslenska
Aerial imaging is an exciting field forecasted to grow at a 12.9% CAGR between 2016 and 2022 (Allied Market Research). It's applications range from producing stunning panoramic scenes for Hollywood blockbusters to the technically-oriented endeavors in the fields of engineering, research, government, and agriculture. If you've ever used Google maps then you have felt first-hand how important aerial imaging can be to your daily life.
However, collecting these images using a drone often requires the presence of an experienced operator that can fly the drone over the desired area and bring the drone back home to recharge its batteries. As a consequence, covering the cost of employing this operator makes aerial imaging services more expensive and it restricts your ability to collect images to the availability of the operator. Moreover, drones have a difficulty operating and surviving under harsh weather conditions.
This project aims to eliminate this cost and increase drone availability and reliability by introducing automated drone navigation and recharging capabilities as well as design enhancements for operation under harsh weather conditions. This is possible by combining Svarmi and the Innovation Center Iceland's expertise in artificial intelligence, imaging, embedded systems, and mechanics.
The product will be tested under real life conditions with the cooperation of Svarmi's customer base and we forecast that it will be sufficiently developed at the end of this project to allow customers to purchase data generated by this product.
Duration: 2018 - 2020
Role in the project
Technical guidance on the navigation and computer vision algorithms.
Developing the drone's charging electronics.
Developing the setup rig to test the drone and its charging station under harsh weather conditions.
Project partners
Acknowledgements
This project has received funding from Iceland's Technology Development Fund (Tækniþróunarsjóður).